Well apparently the voting referendum 'No' campaign starts today. So I will begin my own and say "Vote Yes".
Why should we change hundreds of years of tradition? well maybe
Because it's more democratic.
I find it both odd and interesting that the idea of a government being representative of the votes cast has only become an issue for the majority (as a Lib Dem, PR has been tattooed on my soul for a decade) of both plebs and pundits since the Coalition took power. This is doubly odd as this government represents about 60% of votes cast yet New Labour's 1997 landslide returned 44% of the vote, and the 2005 election saw a majority Blair government with barely 35% of the popular vote. As an aside it does somewhat make a mockery of those who refer to the coalition as "the government no one voted for" (I'm looking at you Lauran Lavern) when in fact the most representative government this country has seen in decades.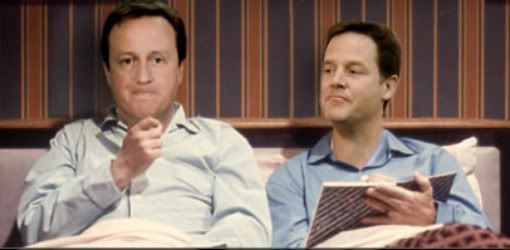 Sorry, but you did in fact vote for them
The AV system isn't perfect as candidates can be elected despite being second (or even third) choices, however at least it requires anyone elected to Government to have at least some degree of support from the majority of their constituents. And it's hard to say that's unfair
You no longer have to vote 'tactically' (as much)
I've posted else where about the problem of tactical voting but to reiterate, the enemy of your enemy is NOT your friend. All voting tactically does is give whichever party you chose as your heroic mujahedin fighters an inflated sense of support for their ideals: to quote someone who's name I can't remember "choosing the lesser of two evils is still choosing evil", or more specifically, voting for the kitten maiming party to keep the Child homocide coalition out of office hardly represents ones true opinion (or at least I hope not).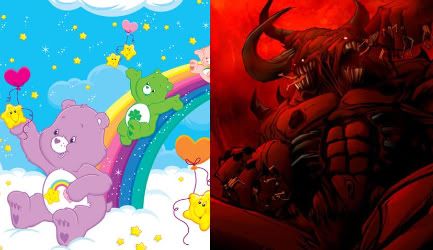 Guess which is which, you may be pleasantly surprised
But under this system you can vote for your preferred party and at the same time not "waste" a vote. Should your preferred party be eliminated in round one, your second vote (Your tactical one) now stands. Thus you are now free(r) to vote for who you truly want to and then vote to keep the Carebears away from your offspring (Told ya). The system may mean an MP is elected based on second-votes, but it means they do most represent the political affiliations of an area. And whereas under a tactical FPTP system the winner can strut around like David Hasseloff on the Berlin Wall, under a AV scenario the MP is acutely aware they cannot take election as a complete vindication of their party's campaign. Finally, it gives parties who aren't worth voting for as they'll never get in a way of gauging their actual level of support and can therefore target resources accordingly next time.
So, two perfectly fine reason why it's a good idea. now to tackle some of the more common against arguments.
It will nearly always return coalition governments…
…And we hate the current one, boooooo. Well apart from reminding you of some of the specific Lib Dem policies that otherwise would not have been implemented had the Tory part won outright, repeated coalition governments need be no bad thing.
At the risk of descending into hyperbole, the strong Labour party brought in such popular policies as PFI, the war in Iraq, the uncapping of tuition fees and tried to force through draconian detention legislation that included I believe trying to bypass the House of Lords with an Act of Parliament; something really only used when considering war. Yes, constant bickering can lead to weaker government and in human psychology we do tend to enjoy the idea of the Big man in charge (but I don't need to violate Goodwin's law by suggesting how that can turn out), but can also lead to the blunting of the more extremes of each coalition member. Meaning policies that have to appeal to voters at large and not just hard-liners in marginal seats.
And remember that for the past few years all the main parties have been squeezing onto the middle ground like it's the last lifeboat off the titanic; it's been a long time since we voted for or against Imperial expansion or war with France for instance.
It will benefit the Lib Dems
To be honest, this one is a little confusing. I think the implication is supposed to be any change in the voting system is akin to a Night of the Long Knives style power grab by Nick Clegg and his sandal wearing junta.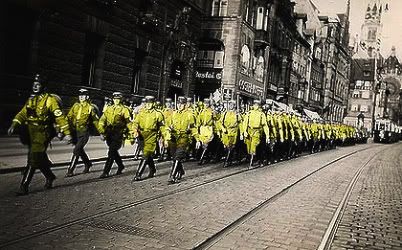 As the referendum returned a 'yes' vote, Clegg moved to stage 2
On the one hand, yes, it would benefit the Liberal Democrats – I believe they would have won 65 extra seats at the last election had AV been in place (citation needed) – but this is because the present system is unfair, and any advantage is to lower this discrepancy rather than some duplicitous deck-stacking by a party suddenly finding itself in charge. Related to this, one reason floating about appears to be that because Clegg wants it we should vote against it, as a sort of protest vote against the Government. Not that sticking it to the man isn't fun and all, but as the AV vote takes place with the May local elections, use them to register a protest and vote properly for voting reform!
And finally
One last thing, it's almost to silly to mention, but a change may well see the end of election night programs. Really? That's even a reason? Has the collective ADHD of this country got to such a level that the lack of a concise TV-friendly spectacle is a reason? If so I don't know why politicians bother with campaigning, as filling Wembley with Illegal immigrants, bankers and lions while handing out bread would clearly be just as effective.